New Website Platform Active Now!
You are here
Back to top
The Truants (Hardcover)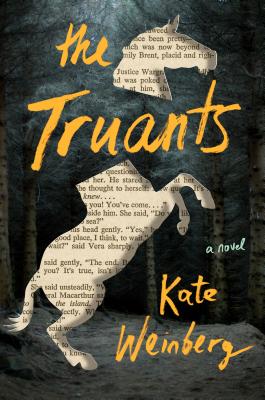 $26.00

Usually Ships in 1-5 Days
Description
---
One of the New York Times Book Review's Top Ten Best Crime Novels of 2020
One of USA Today's Best Books 2020

"[A] hypnotic debut. . . .[An] uncommonly clever whodunit."--New York Times Book Review

Perfect for lovers of Agatha Christie and The Secret History, The Truants is a seductive, unsettling, and beautifully written debut novel of literary suspense--a thrilling exploration of deceit, first love, and the depths to which obsession can drive us.

People disappear when they most want to be seen.

Jess Walker has come to a concrete campus under the flat gray skies of East Anglia for one reason: to be taught by the mesmerizing and rebellious Dr. Lorna Clay, whose seminars soon transform Jess's thinking on life, love, and Agatha Christie. Swept up in Lorna's thrall, Jess falls in with a tightly knit group of rule-breakers--Alec, a courageous South African journalist with a nihilistic streak; Georgie, a seductive, pill-popping aristocrat; and Nick, a handsome geologist with layers of his own.

But the dynamic between the friends begins to darken, until a tragedy shatters their friendships and love affairs, and reveals a terrible secret. Soon Jess must face the question she fears most: what is the true cost of an extraordinary life?

An Entertainment Weekly Best Book of January
A USA Today Must-Read Book of Winter
An Observer Book of the Year (UK)
A Marie Claire Top 5 Christmas Read (UK)
A Times Best New Crime Novel (UK)
A Guardian Top 10 Golden Age Detective Novel
An Irish Times Best Debut of 2019
An Apple Books Pick for January
About the Author
---
Kate Weinberg was born and lives in London. She studied English at Oxford and creative writing in East Anglia. She has worked as a slush pile reader, a bookshop assistant, a journalist and a ghost writer. The Truants is her first novel.
Praise For…
---
Praise for The Truants

"Deftly plotted and with vivid, compelling characters." --Jojo Moyes

"A fresh, smart, exciting voice." --Elin Hilderbrand

"Weinberg's clever, involving debut channels [Agatha] Christie in more ways than one."--People

"The Truants emulates a nigh-on perfect slow burn, generating a pace that makes room for unexpected tragedies as well as silly student antics, drawing out multiple threads of deceptions and lies and a nearly unending river of narrative twists."  
—The Boston Globe

"This is a remarkably assured debut, deftly plotted and with vivid, compelling characters that leap off the page.  I had no idea where it was going to end up—but I knew I would be satisfied, and I was. I look forward to seeing what Kate Weinberg writes next."
—Jojo Moyes, author of Me Before You

"Weinberg's 'truants' are skillfully drawn, compelling and complicated in equal measures....Weinberg is a crackling good writer. The Truants is a novel worth skipping class for, and Weinberg's writing marks the arrival of a sure talent."
—USA Today

"One of the best thriller debuts in recent years, with all the cleverness of Ruth Ware (and, yes, even Christie herself) and a dash of Donna Tartt's edgy darkness. Though Christie fans may be particularly delighted, this propulsive, pitch-perfect thriller has something for everyone."
—Kirkus Reviews (starred review)

"A gripping debut about friends who fall under the spell of their maverick teacher....A well-crafted page-turner full of love triangles and vicious circles, secrets and suspense. Escapist fiction of the highest order."
—Minneapolis Star Tribune

"[A] moody, well-wrought debut, heavy on shades of Donna Tartt's The Secret History."
—Entertainment Weekly

"[A] deliciously creepy addition to the campus-mystery catalogue…[Weinberg] exhibits some of the queen of crime's best traits."
—The Economist

"A twisty tale....Great characters, lots of deceit, messy love triangles, and several intriguing asides for Christie lovers, this is an enticing read."--Forbes.com

"As much a coming-of-age tale as a murder mystery...An impressive debut."  
—The Times (UK)

"In addition to plot and character, Weinberg is adept at place. Her descriptions of the British university, small towns in the countryside and especially the remote Italian island are captivating. Like Christie, she seems to know the value of placing unpredictable characters in exotic settings....The Truants gathers momentum and finishes with several climactic moments that even veteran mystery lovers probably won't see coming." 
—The Columbus Dispatch

"[A] sizzling debut novel…Kate Weinberg gets an A."--Newsday

"Kate Weinberg's The Truants marks the debut of a fresh, smart, exciting voice. I was both transported and captivated by the story and madly in love with all the characters."
—Elin Hilderbrand, author of Summer of '69

"Echoes Donna Tartt's The Secret History, Tom Wolfe's I Am Charlotte Simmons, Richard Russo's Straight Man, and Katie Lowe's The Furies. The mystery at the novel's core befits Agatha Christie [and] unravels at a nearly perfect pace...This slow burn of a novel explores the headiness of favoritism and the danger in meeting one's heroes."
—Booklist (starred review)

"A deeply affecting, artfully written, and entirely gripping story....The novel combines the best elements of a crime thriller, a campus novel, a love story and a psychological study. It is always beautifully and surprisingly written, has a perfect sense of plot, and is consistently clever. Weinberg is a major talent."
—Alain de Botton, author of The Course of Love

"A mesmerizing novel of infatuation and betrayal, reminiscent of Muriel Spark and Donna Tartt. Kate Weinberg makes a stunning debut!"
—Carol Goodman, author of The Lake of Dead Languages and The Night Visitors  

"Intriguing. . . After surprising twists, Weinberg provides a satisfying conclusion while asking the question: does a mystery lose its magic once it's solved?"
—The Guardian

"Weinberg's gripping and luminous debut, The Truants, lays bare the lengths to which we will go to feel seen, even when this means being blind to the glaring faults of others. At once thrilling and heart breaking, The Truants is a novel that beautifully captures how easy it is to wound those we love and be wounded by them, and the long, anguished road to forgiveness that follows."
—Meghan MacLean Weir, author of The Book of Essie

"Weinberg writes incisively and evocatively about infatuation, heartbreak, and grief."
—Publishers Weekly

"Jess is eminently sympathetic and likable, and Weinberg skillfully depicts the headiness of the transition to college life."
—Library Journal

"Weinberg weaves intrigue worthy of Agatha Christie--you'll love getting lost in The Truants' web of mystery, desire, and deceit."
—M. L. Rio, author of If We Were Villains

"Think The Secret History meets Agatha Christie."
—Red (UK)

"One of the best books I have read in...forever. I fell in love with these characters and am still mourning that I don't get to live in their world anymore. Kate's writing is like a wickedly brilliant Donna Tartt, Agatha Christie and Liane Moriarty all mixed into one...Nothing but absolutely brilliant from beginning to end."
—Scarlett Curtis

"The Truants teases, seduces and thrills but ultimately it's about the best kind of love affair - allowing for the freedom to be yourself." 
—Miranda Hart