You are here
Back to top
Spy Penguins: The Spy Who Loved Ice Cream (Hardcover)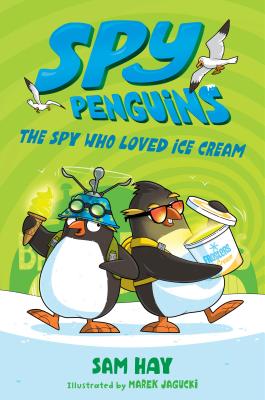 Description
---
In this hilarious second novel in Sam Hay's action packed illustrated chapter book series, Spy Penguins, two young adventure-loving and gadget-obsessed penguins must prove their favorite uncle is innocent before the Frosty Bureau of Investigation locks him away forever!
Jackson and Quigley were this close to joining the FBI (Frosty Bureau of Investigation), until Jackson's mom found out and they ended up scrubbing seagull poop instead. At least they have Uncle Bryn's birthday party to look forward to. But when they get to the Ice Cream parlor, the FBI agents are acting strange. Instead of talking, Uncle Bryn and his friends just finish their glowing green ice cream, then jump into a waiting ice cream truck and disappear.
It's obvious that something has gone very, very wrong, and now Uncle Bryn is suspected of being a master thief! Can Jackson and Quigley solve the case before Uncle Bryn is locked away forever?
"Chock full of penguin-themed wordplay, ... This light, funny adventure series will appeal to elementary school mystery fans." —School Library Journal on Spy Penguins
About the Author
---
Sam Hay is the author of over thirty books for children including the UNDEAD PETS series (Grosset & Dunlap/Penguin US, Stripes UK) and STELLA AND THE NIGHT SPIRITS (Scholastic US). UNDEAD PETS has been translated into six languages so far. Sam also writes picture books for Egmont, including DO NOT WASH THIS BEAR, DINOSAURS UNITED (July 2017) and STAR IN THE JAR (2018). She was long-listed for the UKLA award for her 2009 novel BILLY ANGEL.
Sam was brought up in Scotland and trained as a journalist in Edinburgh. After starting out in newspapers, Sam moved to London where she worked for BBC television for ten years. She still reckons working on daily live television is the perfect brain trainer for life! Sam became a full-time writer when her first baby was born and now lives in Wales with her husband and two children who provide the inspiration for many of her stories. Sam is a passionate advocate for improving literacy in schools and is a regular visitor to classrooms across the country. She has a fantastic repertoire of games and stories to get kids excited about reading.
Marek Jagucki, the illustrator of the
My Big Fat Zombie Goldfish
series, is a graduate of Falmouth School of Art and Design. He is a full-time illustrator and graphic designer based in Yorkshire, UK.
Praise For…
---
"Hay dishes up another lickety split caper, presented in generously leaded lines that share space with frequent views of penguins of diverse species in lab coats or cobbled- together spy gear. Hatchlings with a taste for sweet, uncomplicated mysteries will devour it. " — Booklist Online

"The Spy Who Loved Ice Cream is every bit as much fun as Spy Penguins. ... The illustrations and fast-paced, fun writing will keep readers coming back for more." — Mom Read It
Praise for Spy Penguins:
"Two young penguins angling for jobs with the FBI (Frosty Bureau of Investigation) solve a dastardly ecocrime in this Antarctic antic... Jagucki slips comical cartoon scenes featuring anthropomorphic penguins of diverse breed into the well-leaded narrative... fans will flock to their future capers." —Booklist
"Penguin details ("Quigley puffed up his feathers") and humor ("There was one tiny, krill-sized problem with this plan") by Hay (the Undead Pets series) build the world alongside cartoon illustrations by Jagucki. A quick pace, an engaging mystery, and attempted inventions—a pair of invisibility suits made of sardines that uses "the same scientific principles" as the fish—will keep readers hooked on this series opener." —Publishers Weekly

"The first in a new series, this is chock full of penguin-themed wordplay, including a popular penguin pop star named Justin Beaker. Quigley's inventions, including an "invisibility suit" made of sardine poop, are quirky and fun, as are Jackson's attempts to distract his mom from discovering his spy exploits. This light, funny adventure series will appeal to elementary school mystery fans." —School Library Journal